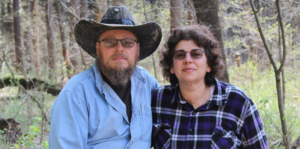 Fanatic Comics LLC
fanatic@fanaticcomics.com
PO Box 489
Fort Madison, IA 52627 USA
Fanatic Comics is a family run company. The Stewart family is very involved in the growth and prosperity of the company. Lee's daughter and nieces help with Support. Lee and his wife, Kerry, run the day to day. Kerry does much of the programming and paperwork. Lee handles networking, promotion, writing and logistics.
Fanatic Comics is truly a family business run by comic fans who love comics!
Fanatic Comics was initially conceived to publish our own comic books, with an eye towards expanding into publishing for others in the future. But as fate would have it, we have the opportunity to publish Offworlder #1 for Benjamin Henderson, Mike Baron & Jordi Armengol.
L. Lee Stewart
Lee has been a Sci-Fi fanatic (pun intended) since he can remember. His first memory was seeing Star Trek on NBC back in the late 60's. Lee would sit on his mothers lap and watch it with her. Throughout his childhood, Lee would be influenced by his mother's love of Sci-Fi. And they would share many evenings watching different shows together.
Lee discovered comics through a friend, JR. JR had tons of comics and was just as crazy about Sci-Fi as he was. They shared comics and spent the days reading and arguing over who would win, The Hulk or Superman!?
Lee grew tired of having to go to JR's to read comics so he decided it was time to buy his own. His first comic was Fantastic Four 135. The cover had the Dragon man center stage! He fell in love with the FF! That book sealed his fate of being a lifelong consumer of comics. And a rabid FF fan!
Years later Lee became involved with Gen Con as a Judge for the Role Playing Game Association (RPGA) and hosting anime screening rooms. He joined different Fanzines and Sci-Fi fan clubs. Writing short stories and helping with editorial duties.
Lee has always been attracted to epic story telling. Stories that start off simply but as you progress you find yourself engulfed by the events unfolding before you. The simple hero that finds himself caught up in a world altering event that will forever change that character. Those have always been the stories that attracted his fervent attention. So naturally he enjoyed Tolkien, Asimov, Anne McCaffery, Ed Greenwood, Roy Thomas, Roger Stern, Marv Wolfman, John Byrne, Jim Starlin, J. Michael Straczynski, and the list goes on.
Even though Lee's first love was the FF he found his way to Indie comics. Small Press, as they were called at the time, were very limited. But a book that caught his Manga/Anime loving heart was Fantasy Quarterly #1. And his life long obsession with everything Elfguest began!
40 plus years later Lee finds crowdfunded books are just as exciting and enjoyable as his first dive into Small press books of the 70's. His love for comics has never wavered, but he has found himself disappointed with the current market. And this is what has driven him to start his own comic. And why he wants to help others achieve their dream as well.
"This is why I started this (Fanatic Comics) 2 years ago" Lee said. "I love comics". "I will always love comics"!
Kerry Stewart (Sidekick)
Growing up, Kerry watched a wide range of TV. Everything from The Beverly Hillbillies and The Facts of Life, to Dallas, Knots Landing, "CHiPs", Gunsmoke, The Dukes of Hazzard, Columbo, Charlie's Angels, M.A.S.H., Star Trek TNG, A-Team, Sliders. But her favorite was Wonder Woman.
She's also always been an avid reader. She can remember being very little and reading the Disney stories – Sleeping Beauty, Cinderella, Snow White. As she got older and discovered the wonder of the Bookmobile, her reading became as varied as her TV watching. But eventually her true passion was revealed… Sci-Fi -- with an emphasis on sword & sorcery.
She couldn't find much of that on TV, but she did discover the world of gaming, bringing the sword & sorcery novels to life. But still, none of that says comic books, but for Wonder Woman and a few other shows/movies that she had no clue were based on comic books.
Not until her & Lee got married, and he started to share his love of comics with her. Then he bought a lot of back issues from someone and brought them home. There were a few that grabbed her attention; it was the artwork that interested her first. As an avid reader, "picture books" seemed kind of cool. The first one that stuck in her mind was Neil Gaiman's Neverwhere. Weird story, cool artwork, and only issues 1 & 2. Which was enough to draw her in so she had to track down the rest.
Then Lee took her to the Local Comic Shop (LCS), and a monster was born. Wonder Woman issue 51 was her first purchase, later Lee bought her issues 1-50 on eBay. Now when they hit the LCS, she's just as hard to reign in as he is.